Significant regional differences in court delays for civil justice cases have been identified following research from Express Solicitors and the Association of Consumer Support Organisations (ACSO).
Express Solicitors researched 8,500 fast track and multi-track claims to get a clearer picture of the bottlenecks for civil justice in England and Wales.
The East of England is the worst overall performer in England and Wales, with an average 350 days elapsing between a Claim Form being served and a case completing the first costs and case management conference (CCMC).* The South East is second worst, followed by the North East.
Delays also vary considerably based on the size of a claim. Some consumers using Thanet County Court are having to wait over 456 days (15 months) for cases to complete the first CCMC. Chelmsford (426 days) and Reading (424) are next worst, followed by Bournemouth (394) and Durham (377).
Yorkshire and the Humber is, overall, the best performing region of England and Wales, with an average wait of 236 and 235 days respectively.
Nevertheless, in six out of ten regions, consumers have to wait more than nine months to have their claim subject to a CCMC. The figures do not include further delays to cases that require CCMCs or other interactions to progress through to a trial, so the overall delays are likely to be much longer.
Matthew Maxwell Scott, executive director of ACSO, which represents the interests of consumers in the civil justice system, described the figures as a kick in the teeth for access to justice, and urged the government to 'get a grip' of the civil justice system.
"There has been plenty of publicity for delays in the criminal courts, but it's the civil courts which are used by the vast majority of the public. It is completely unacceptable for people to wait a year and a half to have their cases heard."
He added: "The government has blamed covid for our courts chaos, but our justice system has been starved of funding for years before the pandemic. The rule of law is too important to be allowed to wither on the vine, and we call on ministers to address these delays with urgency."
The data was derived from Express Solicitors, which collated the cases on which it is representing claimants in England and Wales and calculated how long cases were taking between serving a claim form and reaching the conclusion of the first CCMC. The cases do not include small claims but do include those cases allocated to the multi-track from the fast-track.
James Maxey, managing partner of Express Solicitors, said: "The data on delays is of huge concern. Our clients cannot move on and get back on track with their lives if they face such a long wait. Many of them have been injured in road traffic accidents, or our fighting got compensation after suffering an injury at work.
"The government's quarterly figures** only provide a national picture so we have done our own research on regional variations, and the outcome is shocking. It beggars belief that a client should wait for over a year or more for their case to be heard in Chelmsford, Reading or Durham."
Nationally, the government says consumers making small claims face a 51 week delay, while higher value cases (known as fast-track and multi-track) have a delay of 74 weeks reported on a mean basis (as at Q4 2021).
Mr Maxey added: "The figures underline what a postcode lottery civil justice has become. In the same way that quality standards of other public services, such as health provision, dentistry or education are determined by where you live, the same is true for civil justice."
He explained that his team received regular communications from Courts explaining why cases have fallen through the system. "During this year, Courts have cancelled 20 trials where we are representing clients at the very last minute because there have been no available Judges. The cost is significant; clients have often travelled miles to court (and taken a day off work) only to be told there is no Judge."***
Maxwell Scott said that ACSO will be contacting MPs whose constituencies lie in the worst-performing areas to urge them to lobby for more resources to cut backlogs.
He said: "We would like to see targets set for what ministers regard as an acceptable delay between application and hearing, backed by sufficient funding to ensure that courts have the means to meet those targets, including making sure there are enough judges to hear cases.
"There are a number of competing calls for additional funding for public services, but if the mark of a civilised society is a properly functioning justice system, this data underlines how far we have fallen in England and Wales during the last decade or more."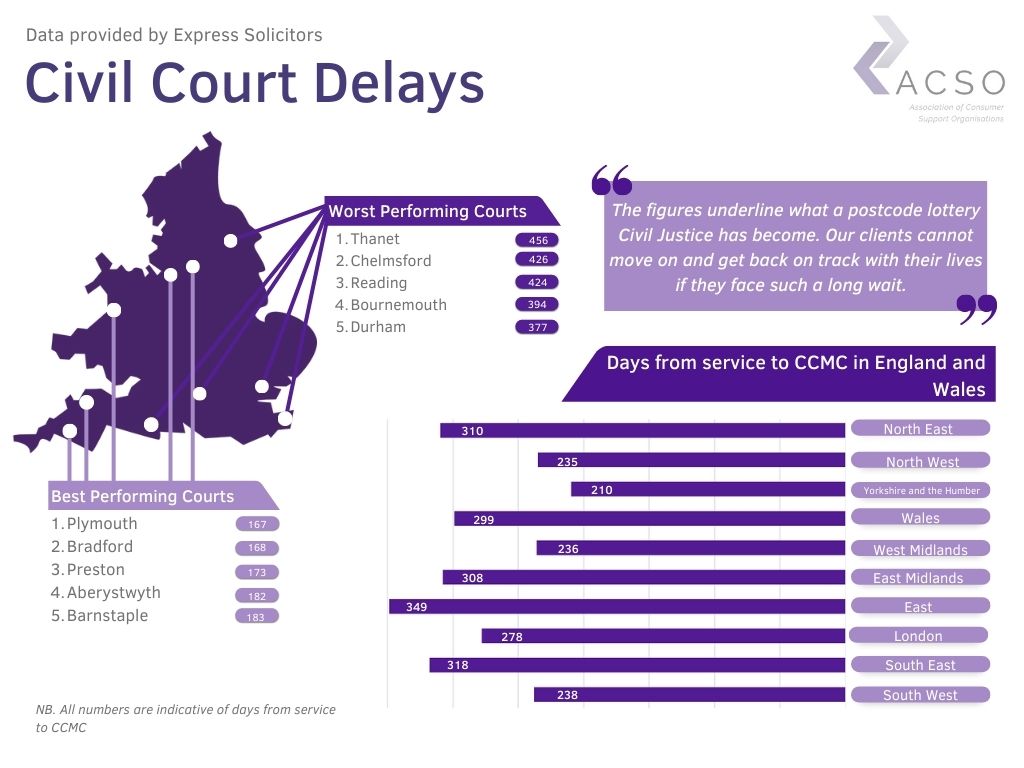 Employment Tribunal data
Maxwell Scott said that ACSO is also examining new data on delays in employment tribunals. "The HMCTS stopped publishing data in March 2021, but at that point there were over 50,000 cases waiting to be heard and the average time taken to clear a case had increased by 23 per cent to 45 weeks on average.
"In light of a likely post-pandemic increase in tribunals as a result of changing working practices, our expectation is that settlement delays will soar, so it is important that HMCTS starts publishing data again, and that ministers equally get a grip on this aspect of civil justice."
He said ACSO will bring forward its conclusions on employment tribunal delays shortly.
* The delay is calculated by measuring the time elapsing between issuing and serving the claim form (having paid any court fee as appropriate), and the first costs and case management conference taking place. The CCMC is a procedural hearing for the court to identify and understand what the real issues in a dispute are and to consider whether they can be narrowed before trial. The Judge will thereafter make a costs and case management order usually through to trial. We believe this is an appropriate way to measure the delay because it is done at the initiative of the court and forces the parties to the table. Of course there are often more than one CCMC during the process, and plenty of cases do proceed to trial, but we maintain that this remains one of the best ways to compare like-for-like court delays across England and Wales.
** Civil justice statistics quarterly, October to December 2021
*** Verbatim case examples available upon request from Express Solicitors.